It's another Friday my loves and for today's blog I would like to highlight and share ten amazing wedding venues for your Tobago wedding. From the intimate celebration to the lavish affair and whether indoor or outdoor, every destination couple can enjoy the Tobago wedding experience that they have envisioned. So, let's get into my Top 10 Tobago Wedding Venues, in no particular order.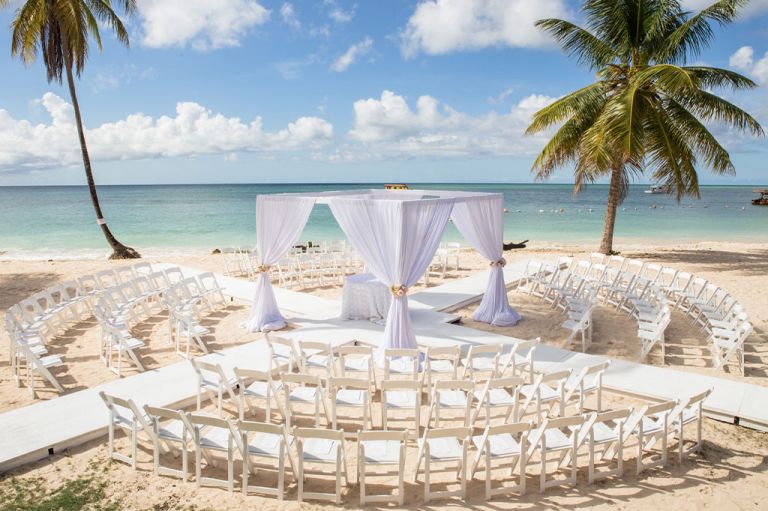 1. Ohana Villa
This Balinese inspired hideaway is at the top of my list for Tobago destination wedding venues. Ohana Villa's private location, intricate architecture and uninterrupted views of the Atlantic Ocean creates the perfect atmosphere for your destination Tobago weddings.
As shared in a previous blog post, this tropical oasis is nestled atop an incline on the outskirts of Tobago's capital and has been featured by the New York Times and Conde Nast Traveler. This versatile property features four luxurious ensuite bedrooms, high ceilings, panoramic views, two individual private terraces, a spacious deck with two infinity pools, a Jacuzzi and Koi pond… stunning wedding photos are guaranteed!
A romantic and memorable destination Tobago wedding experience awaits you at Ohana Villa, let me help you make this you reality!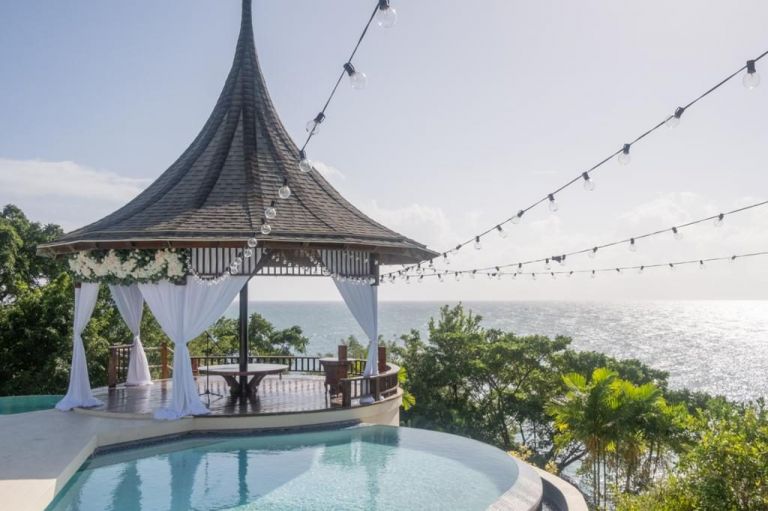 2. Pigeon Point Heritage Park
Pigeon Point Heritage Park is an iconic location on the island of Tobago, home to our famous Pigeon Point Beach and Jetty, this Heritage Park is a favourite among destination wedding couples in Tobago.
Couples can choose from an entire outdoor experience on the lawns, jetty or beachfront with the added ambience of a riveting sunset, tropical blooms and coconut trees and gentle waves rippling against the shoreline or they can use the elegant Heritage Pavilion for a more enclosed affair. The hardest choice at Pigeon Point Heritage Park is selecting where on the 125 acre property to say 'I Do' but, rest assured, I can make that choice much easier as well as transform your preferred spot into all that you have envisioned.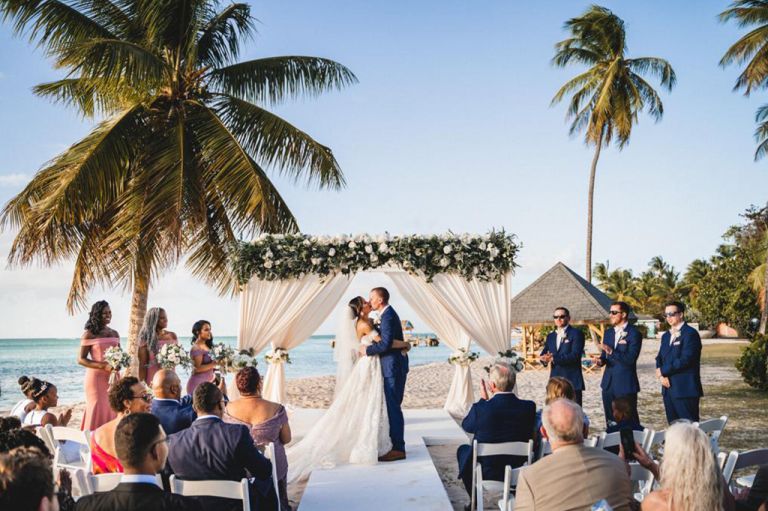 3. Palexaura Villa
Palexaura Villa, situated within the Tobago Plantations Estate, is located on a peninsular which juts out to the Atlantic Ocean on the Southern end of the island of Tobago. Couples love the personal and private feel of this property as well as its ability to be transformed into the perfect place to exchange vows and dance the night away.
The Tobago Plantations Estate spans 750 acres with a 60 acre protected mangrove forest where bioluminescent night tours are popular for the adventurous visitor. In addition to being home to the Magdalena Grand Beach & Golf Resort and a PGA designed golf-course, the estate is also home to vacation suites, town houses and luxury villas including Palexaura Villa. Palexaura features four ensuite bedrooms, a living and dining area which open out to the pool deck;  swimming and paddling pool, a covered verandah and a garden and ocean lookout. The ocean backdrop is actually the feature that couples love most about this venue and we are ready to help you both 'fall in love again!'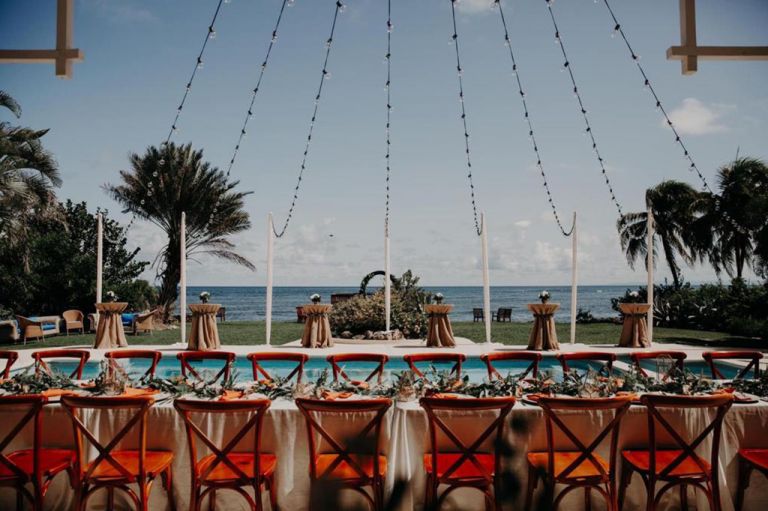 4. Merci Buccoo
Opened in 2019, Merci Buccoo is the newest venue on the island for weddings. Situated in the picturesque tourism community of Buccoo Tobago, this family-owned and operated facility overlooks our renowned Nylon Pool, Buccoo Reef and Buccoo Bay and it's architecture truly stands out as a symbol of simple sophistication. "Amazing location", "Staking view" and "nice ambiance" are but a few descriptions from past couples.
Merci Buccoo features six well-appointed executive suites and a main hall with signature floor to ceiling windows and exits onto a wrap-around deck that boasts an uninterrupted ocean view… sunsets from here are mesmerising. This space is also dynamic and easy to transform as it can accommodate intimate or large celebration as well as allow for both ceremony and reception. We work with our couples to create magical and memorable moments at Merci Buccoo which are further enhanced by the truly captivating natural beauty which surrounds and we would love nothing more than to work with you too!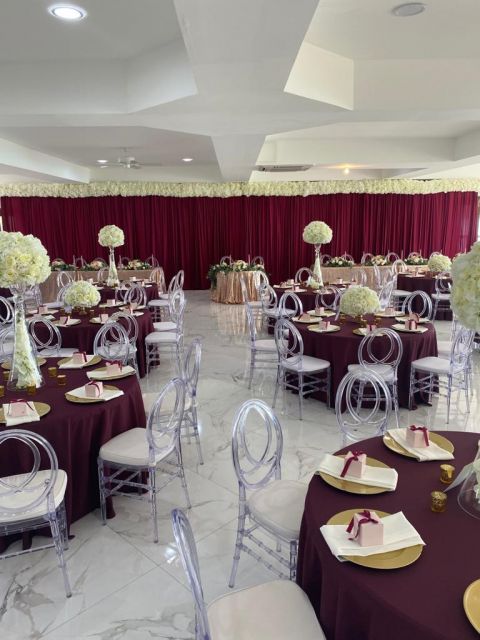 5.The Villas at Stone Haven
Destination couples that selected The Villas at Stone Haven have lauded the infinity pool at the main restaurant, the seclusion and landscaping of the property and the serene atmosphere and I agree, these attributes certainly make this venue a top choice for destination Tobago weddings.
Spectacular ocean views of Stone Haven Bay, tropical gardens and amazing privacy creates an atmosphere which oozes romance and sets this 14-acre property apart. There are 14 luxurious ocean view villas with plunge pools and shaded verandahs to choose from; all arranged to offer maximum privacy from each other. While, the fine-dining Pavilion Restaurant is perfect for exquisite cocktails around the infinity pool and intimate receptions.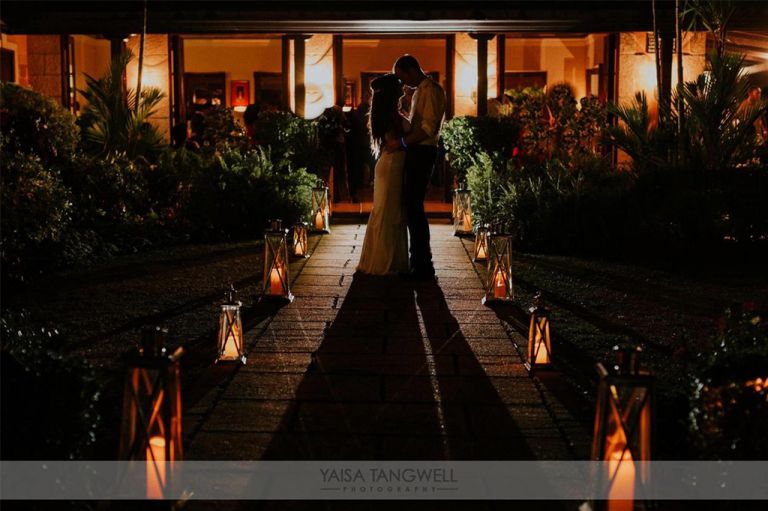 6. Magdalena Grand Beach & Golf Resort
Situated on the Atlantic Oceanfront, the Magdalena Grand Beach & Golf Resort is nestled in the Tobago Plantations Estate which houses a community of luxury suites and villas, a spa and an 18 hole PGA designed championship Tobago golf course and mangrove forest accessible by an enchanting boardwalk.
Tobago destination wedding couples can opt for an outdoor experience on the great lawn overlooking the ocean, in the courtyard or pool side; while the grand Colibri Ballroom can be configured to host an intimate reception or entirely lavish set up. At Magdalena, we can curate a magical and memorable Tobago destination wedding … just say yes!
7. Mount Irvine Bay Resort
Perfectly described in the UK's Sunday Telegraph, Mt. Irvine Bay Resort, located on a former sugar and coconut plantation overlooking the Caribbean Sea, is an elegant private hideaway set on 154 acres, adjacent to its world-class 18-hole championship golf course and a picturesque beach framed by lofty coconut palms. This property is rich in historical and rustic charm, has modern amenities following its very recent renovations and boasts of its own beach.
This hotel offers couples seven locations to choose from for their destination wedding experience; the main ballroom, the fine dining restaurant, pool side, one of two terraces, the beach front or the bamboo hollow under a majestic century-old Samaan tree.  There is certainly a flavour for every taste at the Mt. Irvine Bay Hotel and with the added charm and hospitality of Tobago and her people, couples and their guests will have memories to cherish for a lifetime!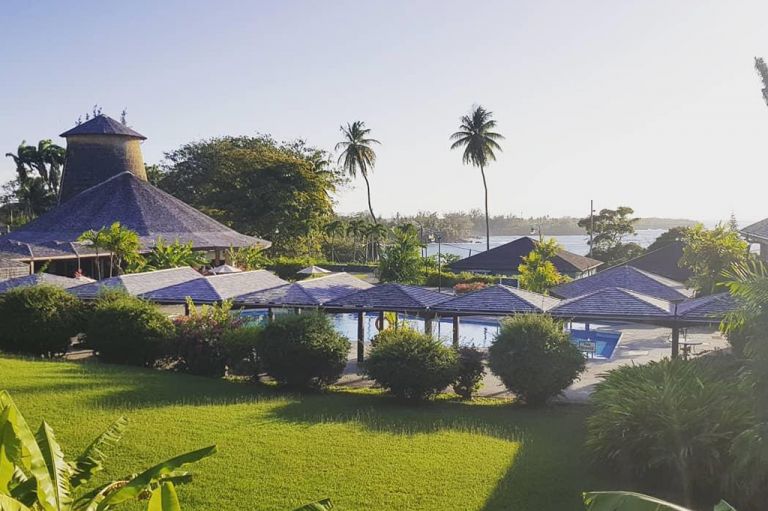 8. Brash Villa
Brash Villa is a rustic Spanish-styled villa located on the slopes behind the Mount Irvine Golf Course and at this elevated level there are enviable panoramic views of the Caribbean Sea. A truly serene tropical setting, Brash Villa is the main feature of the 2-acre property on which it sits. Surrounded by well manicured gardens, tropical fruit trees and grounds, there are also extensive patios and verandahs for lounging and relaxation, a large swimming pool, a private tennis court and four bedrooms with ensuite bathrooms.
For weddings, you can choose garden settings or the poolside for a fun and unforgettable celebration and whatever your dream we will go above and beyond to execute it with precision and perfection. So, now that you've seen the place, let me in on the date and we will do the rest with our remarkable team to ensure that your destination Tobago wedding is as you've envisioned it to be.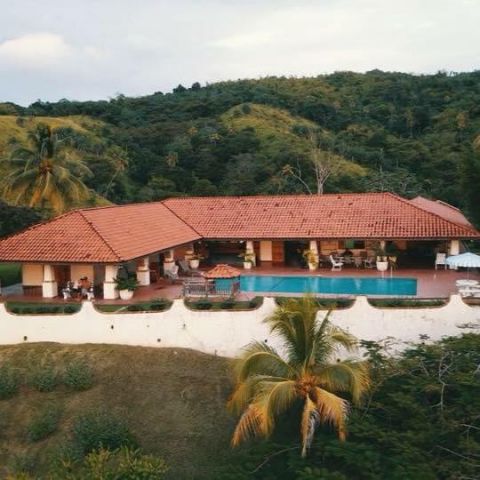 9. Villa De Lena
Villa De Lena is another top choice for destination Tobago Weddings and I attribute this to it's espacious grounds, distinctive design and features such as the large gazebo nestled in a lush tropical garden.
Located in the vibrant community of Bon Accord, minutes away from the international airport, numerous amenities, restaurants and beaches, Villa De Lena is a 3-bedroom luxury villa tucked away to provide exclusivity, even in the midst of the bustle of Bon-Accord. On this 1-acre property, couples can design a truly unique experience and capitalise on the stunning architecture for gorgeous wedding photos. All bedrooms are on the upper floor and the open unto a private terrace, while a grand spiral staircase leads to tastefully decorated lower area with exits to the pool deck, expansive front lawns, flower garden and gazebo walkway.
The possibilities are endless at Villa De Lena and I am ready to explore each possibility with you towards ensuring the experience of a lifetime at your destination wedding in idyllic Tobago.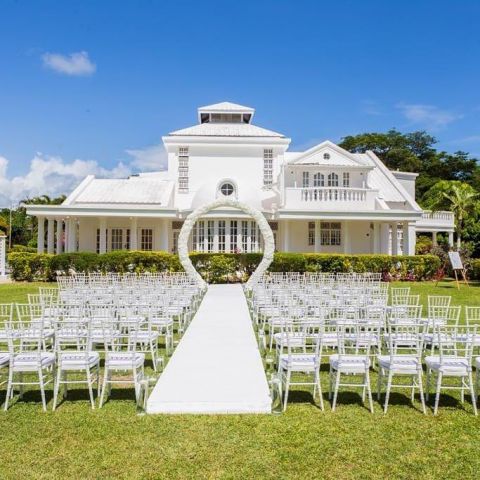 10. Plantation Beach Villas
Plantation Beach Villas are six gingerbread trim villas situated on an incline overlooking Stone Haven Bay. These villas are surrounded by lush canopying trees and tropical gardens and each luxury  villa has its own private land space and boasts three bedrooms, a teak patio looking out to sea and many vacation amenities. All villas also come with an appointed housekeeper.
For wedding celebrations, couples can secure one villa or the entire property for an all-inclusive experience and choose from either the beach, garden or pool side for your intimate ceremony and reception. Whether a breakfast or evening celebration that will capture an amazing sunset, Plantation Beach Villas can be the perfect choice for a tropical Tobago wedding and I look forward to designing the romantic escape that you have been thinking of since your engagement!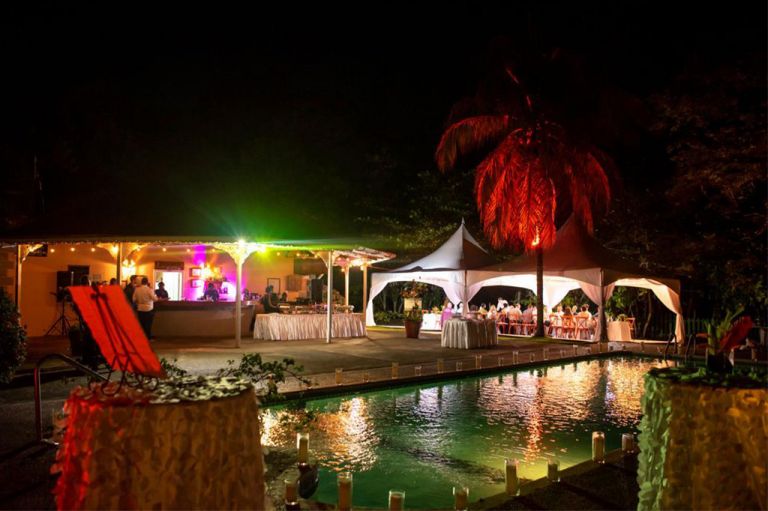 So, these are my Top 10 Tobago Wedding Venues and my beautiful island awaits! Whichever your choice and if you want to learn more, I am ready to ensure that you have all that you need for the destination wedding experience of a lifetime in Tobago… just let me know!
Contact us today and let's chat about your Tobago Wedding!